25 septembre 2012
Certainly it was a crazy idea.
How could a new screenwriter whose first spec had not yet induced any contact in the Film industry, how could a French without any network in the States, how could such a guy hope the Columbo episode he decided to write had the slightest chance to be read by Peter Falk ?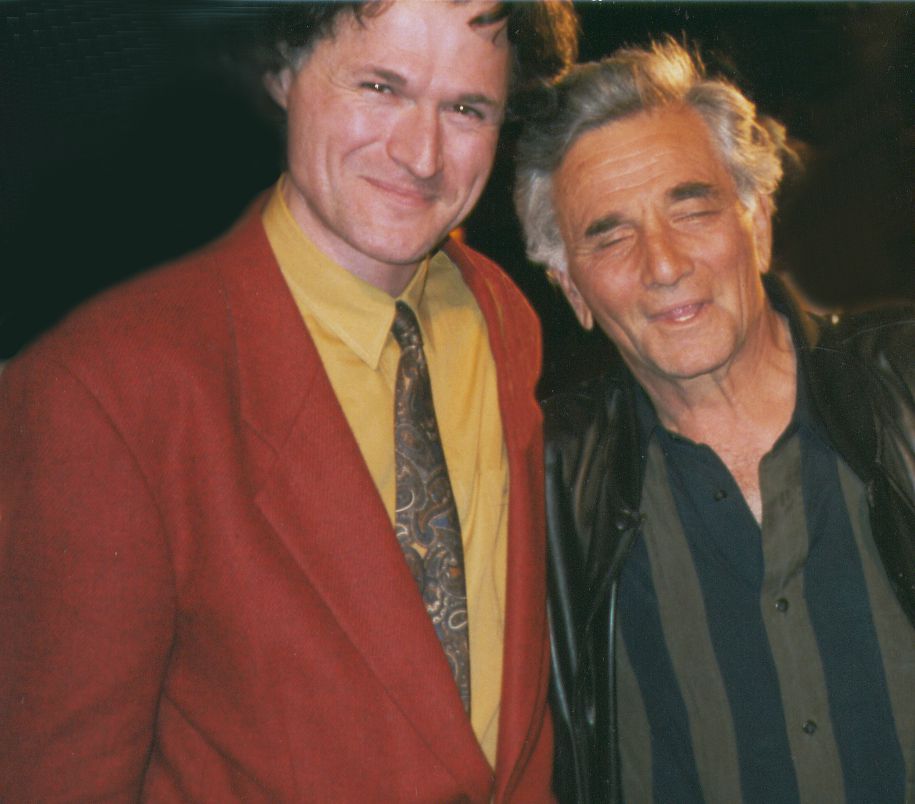 Meeting Peter Falk in 1996
Main Steps from issue to beginning
June 1998: the revised treatment of Fatal Break was completed and sent to Universal
October 1997: in relationship with Peter Falk and Universal Television script supervisors, beginning of revision.
March 1997: agreement with Universal City Studio was signed off in.
February 1996: Peter Falk read the story in Paris where he met me.
September 1994: Fatal Break material first draft returned since Universal Studios policy "forbids absolutely acceptance of any unsolicited script or outline".
July 1994: Fatal Break material (treatment plus 1st part of dialogue) is completed and sent to Universal. December 1993:Paris Columbo Script Team was created, gathering around me three American females.
November 1993: Rupture Fatale was completed.
August 1993: First step of writing Rupture Fatale, story on which Fatal Break is based.
Summer 1993
Columbo in me imagines a perfect murder while climbing a moutain
Somewhere in the French Alps, near the famous Meige. At this time, I was used to impersonate Columbo just for kidding, especially in incongruous situations.
Le Combat des Rois (Battle of the Kings) and was waiting responses from the producers and actors I sent my material. After have worked a dozen years as an executive in consulting, industry then banking, I wanted to do something fully different, to involve myself in a creative process much more in accordance with my personality.
To have been able to complete a story was for me a first success and I was willing to write another one as soon as possible.
Climbing a mountain provided me a flash of intuition: an exciting perfect murder could be set up there, a fake accident. And I was thinking about characters, mobile, way, police inquiry and this little thing that makes a perfect murder fail. To help me find my story, I was impersonating my favorite detective played by my TV show favorite actor Peter Falk.
A friend listening my strange Columbo improvised tirades, gave me the kick off: not only you play very well Columbo but it seems you think like the character; why not making a Columbo episode with your mountain perfect murder ingredients ?
Why not ? Simply because I couldn't imagine I was able to. But if... my story was something very innovating ? Columbo investigating in mountain in a context far from usual Hollywood set. Why not in Italy, Eastern Italian Alps, a return to his family roots ?
Knowing very well the climbing universe, Columbo living in me so many times, at ease to imagine sophisticated murder plots… yes after all. Even if it is just for the fun.
Come back in Paris end of August, I remember me on Le Pont des Arts, working day after day to polish my murder, then build the characters, the motive, the clues and the fight between Columbo and the murderer.
Commentaires sur FATAL BREAK STORY. PART 1